Like many, you're probably wondering what is going on with the real estate market, why the prices are continuing to rise and if now is a good time to buy?
Market conditions and rising prices
In short, there's more demand than there is supply and that's driving the housing market up. The low interest rates are also contributing to the high demand.
The market is rising but it is rising at a much slower rate than it was last year. Many believe the slow down is a result of COVID-19 and we'd have to agree.
A few stats to help put it all in perspective:
Nearly 500,000 homes closed escrow in September
The median price to purchase a home in California is almost $715,000
Homes are staying on the market for about 11 days
So, inventory is limited, it's moving fast, and the prices are on the rise.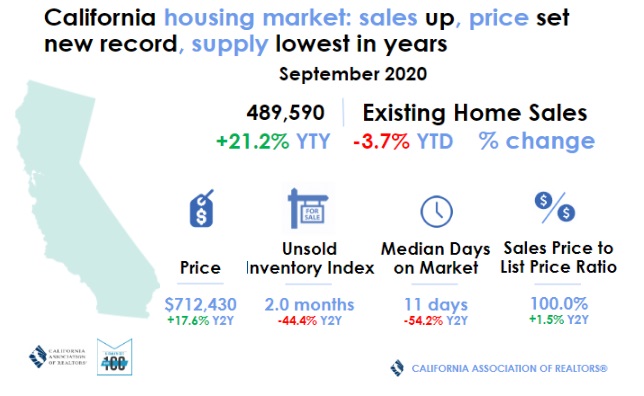 What does this mean for buyers?
If you're a buyer, we recommend that you be patient and wait for the right opportunity. A higher demand simply means that there's a lot more competition going after the same exact properties. Patience is key.
What does this mean for sellers?
People are motivated to buy so your property won't be on the market long and depending on when you purchased the home, you could have a lot of appreciation in the property. It's definitely not a bad time to buy.
If you're not sure how to navigate the current market, let's chat. One of our real estate agents would be happy to discuss your current situation and walk through a few options. The key is to make a decision based on your current situation, your financial goals, and the current market. Considering those three things will help lead you in the right direction.
Again, don't hesitate to contact us if you have any questions. We're always here.
The Zion Team